"I wish to give it one other two years" – Miesha Tate opens pension plans
Former UFC women's bantamweight winner Miesha Tate returns to the octagon for the first time in nearly five years. She had retired from mixed martial arts after her last loss in 2016.
ADVERTISING
The article continues below this ad
Now, however, she is preparing to face Marion Reneau at UFC Fight Night 192 on July 17, 2021. 'Cupcake' will also have a title shot with 'The Lioness' Amanda Nunes in mind.
ADVERTISING
The article continues below this ad
Tate was always one of the top draws during her stint in the promotion. The elite performer had also won the Strikeforce Bantamweight Championship before joining UFC.
She recently revealed how long she would like to go on before finally hanging up her gloves. While giving an interview to SCMP MMA, she said, "What else do I want? You know, I'm just never a person who's completely satisfied with where I am. "
She went on to say that she wanted to fight again as she thought this was a good time to return.
'Cupcake' also hinted at her retirement plan when she described how long she would like to keep going. She said, "I'm 34, I retired when I was about 30 and I just thought I want to give those two more years like I have to lose?"
She added that she received full support from her partner after discussing her plans to return to the ring.
What was Miesha Tate up to before she last retired?
Tate (18-7) made her jump to the UFC in February 2013. She fought Cat Zingano on April 13 and lost that fight via a 3rd round TKO.
Her next opponent was Ronda Rousey, whom she had fought at Strikeforce. She lost this fight to an armbar submission in the 3rd round.
Her first win in the promotion was against Liz Carmouche in April 2014, who she defeated unanimously. After taking three more wins, she faced Holly Holm for the bantamweight title at UFC 196 on March 5, 2016. After using a bare choke in the 5th round, she took the win and became the new champion.
As her first title defense, she fought Amanda Nunes at UFC 200 on July 9, 2016. She lost the title within 3 minutes by a naked choke on the first round.
On November 12, 2016, she lost to Raquel Pennington at UFC 205 and decided to hang up her gloves for a now rather brief sacking.
ADVERTISING
The article continues below this ad
With her return imminent, it will be interesting to see how far she can go. If she emerges victorious, a fight with Nunes could be on the table. What do you think of Tate's return to the ring?
SUBMERGED DEPTH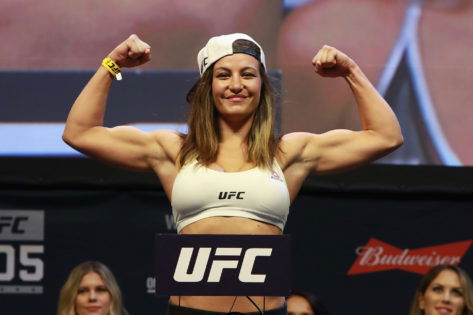 ADVERTISING
The article continues below this ad